Some might consider me a bit off my rocker to head out onto the roads of the Southwest of England on May Day bank holiday Monday, but my trip was worth it. I "swam against the flow" of holiday-maker traffic, well the majority of it anyway, to the most southern part of the U.K. and the glorious seaside harbour of Porthleven in Cornwall.
For me, this area of the world is a glorious example of a landscape to inspire…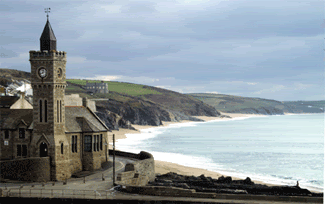 … but I was invited down to work for two days with the staff and children of Porthleven primary school, and some colleagues from surrounding schools, in exploring some other mystical landscapes, this time digital.We could have been dressed in white and dancing through the streets, as today was Flora Day in neighbouring Helston. I don't trust my leggies to do anything except keep my bottom off the floor and to try to steer me in a straight line (I don't do changing directions, cornering or stopping quickly any more 🙂 ) so it was safer to walk, metaphorically, through some fantasy landscapes and admire the flora (and fauna) there.
Porthleven primary school is set within this beautiful region of the country and has a good focus on environmental issues. It has recently built a large knot garden. These two photographs, taken from a helicopter piloted by a parent from the school, show the design and first days of the new creation.
It is a sensory garden, with the first phase looking at "Taste" so it is full of vegetables (no scrumpin'!!) BBC Gardeners World have been down to film and are going to return to see how the garden is progressing – so watch your TVs to see the results.
A superb and creative bunch of staff explored the "inspiration potential" behind these visual literacy ideas. Thank you Claude for summarizing the fact that the games we use are a huge bank of resources to be plundered only when appropriate, but that there are so many times when they ARE relevant.
Well done to Chris, who got picked on rather unfairly, 🙂 to conduct a huge orchestral cacophony (sorry) concerto of sound.
Thank you to the staff from Rosemellin, Halwin, Manaccan, Roskear, Troon, Lanner and Porthlevin for a great fun day, full of laughter. Thank you, too, to Duncan for organizing this visit and for your generous hospitality.

Category: 1) Events and Training days