Archive for September, 2007
A couple of days of downtime feeling a little under the weather but I did get to read some Paddington and something… um… (a bit) deeper.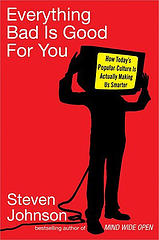 Have just finished re-reading Steven Johnson's "Everything Bad is Good For You" I found some of the arguments, and the way they were presented, a little ambiguous, but I was particularly fascinated by his thoughts on computer games, and the positive effect they can have on our cognitive processes.
Most of the people who denounce video games, he says, haven't actually played them—at least, not recently. Twenty years ago, games like Tetris or Pac-Man were simple exercises in motor coordination and pattern recognition. Today's games belong to another realm. Johnson points out that one of the "walk-through" for "Grand Theft Auto III"—that is, the informal guides that break down the games and help players navigate their complexities—is fifty-three thousand words long, about the length of his book. The contemporary video game involves a fully realised imaginary world, dense with detail and levels of complexity.
Indeed, video games are not games in the sense of those pastimes—like Monopoly or gin rummy or chess—which most of us grew up with. They don't have a set of unambiguous rules that have to be learned and then followed during the course of play. This is why many of us find modern video games baffling: we're not used to being in a situation where we have to figure out what to do. We think we only have to learn how to press the buttons faster. But these games withhold critical information from the player. Players have to explore and sort through hypotheses in order to make sense of the game's environment, which is why a modern video game can take forty hours to complete. Far from being engines of instant gratification, as they are often described, video games are actually, Johnson writes, "all about delayed gratification—sometimes so long delayed that you wonder if the gratification is ever going to show."
At the same time, players are required to manage a dizzying array of information and options. The game presents the player with a series of puzzles, and you can't succeed at the game simply by solving the puzzles one at a time. You have to craft a longer-term strategy, in order to juggle and coordinate competing interests. In denigrating the video game, Johnson argues, we have confused it with other phenomena in teen-age life, like multitasking—simultaneously e-mailing and listening to music and talking on the telephone and surfing the Internet. Playing a video game is, in fact, an exercise in "constructing the proper hierarchy of tasks and moving through the tasks in the correct sequence," he writes. "It's about finding order and meaning in the world, and making decisions that help create that order."
Johnson's response is to imagine what cultural critics might have said had video games been invented hundreds of years ago, and only recently had something called "the book" been marketed aggressively to children:
Reading books chronically under stimulates the senses. Unlike the longstanding tradition of game playing—which engages the child in a vivid, three-dimensional world filled with moving images and musical sound-scopes, navigated and controlled with complex muscular movements—books are simply a barren string of words on the page. . . . Books are also tragically isolating. While games have for many years engaged the young in complex social relationships with their peers, building and exploring worlds together, books force the child to sequester him or her in a quiet space, shut off from interaction with other children. . . .
But perhaps the most dangerous property of these books is the fact that they follow a fixed linear path. You can't control their narratives in any fashion—you simply sit back and have the story dictated to you. . . . This risks instilling a general passivity in our children, making them feel as though they're powerless to change their circumstances. Reading is not an active, participatory process; it's a submissive one.
He's joking, of course, but only in part. The point is that books and video games represent two very different kinds of learning. When you read a biology textbook, the content of what you read is what matters. Reading is a form of explicit learning. When you play a video game, the value is in how it makes you think. Video games are an example of collateral learning, which is no less important.
Being "smart" involves facility in both kinds of thinking—the kind of fluid problem solving that matters in things like video games and I.Q. tests, but also the kind of crystallized knowledge that comes from explicit learning. If Johnson's book has a flaw, it is that he sometimes speaks of our culture being "smarter" when he's really referring just to that fluid problem-solving facility. When it comes to the other kind of intelligence, it is not clear at all what kind of progress we are making, as anyone who has read, say, the Gettysburg Address alongside any Presidential speech from the past twenty years can attest. The real question is what the right balance of these two forms of intelligence might look like. "Everything Bad Is Good for You" doesn't answer that question. But Johnson does something nearly as important, which is to remind us that we shouldn't fall into the trap of thinking that explicit learning is the only kind of learning that matters.
Some of the above text is taken from the excellent review "Brain Candy- Is pop culture dumbing us down or smartening us up?" by Malcolm Gladwell in The New Yorker
Oh yes, and, mums ARE right: tomato soup (with toast) DOES have healing properties!