Ever tried to teach children how to fold a complicated structure and wondered how they can all see what you are doing so you don't have to repeat it many times?
2 ways to solve this:

1. Use a camera, even a Digi-Blue, film it and project it "LIVE" onto the whiteboard. ("Who's job is it to be camera operator today?")
I use this method to ensure that everybody can see the results of the science investigation "as it happens." Mr Rylands! Look… it's melting!"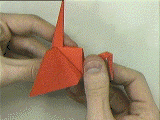 2. Try visiting THIS SITE and folding an origami crane along with this superb Flash demonstration. A challenge but well worth a go, perhaps with older children.
More origami: here, and (some "print and fold") HERE
Would love to hear from you if you know of any more.
Some of the diagrams can sound like an exercise programme!
Watch out for sore knees and elbows!
FOLD FORWARD AND BACK
or, in the words of Michael Caine, the voice on my SatNav at the moment, "Turn around when possible"
I have reached my destination… and not a lot of people know that.
Category: 2) Useful n Interesting